RenaLife ™ Epithelial Medium Complete Kit
$160.90
Product Description
RenaLife™ medium is optimized specifically for the low-serum culture of Primary Human Renal Epithelial Cells. It has been composed and supplemented to maximize the life expectancy of Primary Renal Epithelial Cells.
RenaLife supports the growth of these Primary Cells over a period of at least 15 population doublings.
Primary Cells cultured in RenaLife Renal Epithelial Medium out-perform cells grown in any similar medium. You'll get consistently reproducible results with Lifeline media!
Your Primary Renal Cells will plate better using  RenaLife optimized media (as compared to our nearest competitors' media or traditional high-serum media)
Your Primary Epithelial Cells will grow more quickly in RenaLife Medium than in other commercially-available media
Primary Renal Epithelial Cells will maintain better morphology when cultured in RenaLife Medium
RenaLife Basal Medium contains no antimicrobials and no phenol red. These supplements are available from Lifeline but are not required for eukaryotic cell proliferation.
Kit format for formulation flexibility:  RenaLife culture medium is offered in a kit format composed of RenaLife Basal Medium (500mL) and associated supplements and growth factors called "LifeFactors." This kit allows you to prepare fresh medium in your laboratory, extending shelf life and enhancing performance.
Protective packaging:  RenaLife Basal Medium is provided in a light-protected 500 mL bottle.
The RenaLife LifeFactors include: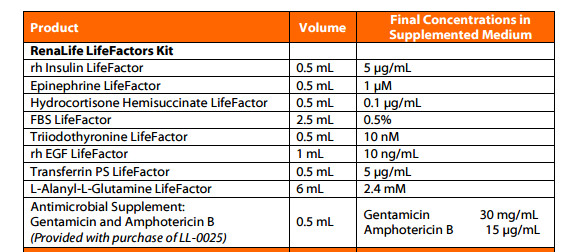 ISO-Style Testing for Guaranteed Consistency and Reproducible Results
Every production lot of RenaLife Medium is extensively tested using Primary Human Renal Epithelial Cells to ensure lot-to-lot consistency.
Sterility Testing:  Negative for bacterial and fungal growth
pH: 7.5 +/- 0.2
Cell Testing: Rate of proliferation and morphology
Osmolality: 315 +/- 10 mOsm
Endotoxin: < 0.5 EU/mL
RenaLife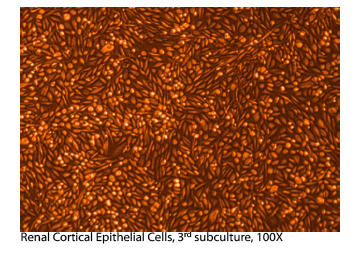 Medium grows Primary Human Renal Epithelial Cells through at least 15 population doublings at rates that are comparable to other commercially available low-serum media, while maintaining more characteristic epithelial morphology, e.g., more compact cuboidal shape, high refractive index and clarity of the cytoplasm.
Shown left: Primary Renal Cortical Epithelial Cells, third subculture (100X).
Shown below: gamma-Glutamyltransferase (GGT) assay. The substrate (gamma-glutamyl-p-nitroanilide) and acceptor molecule (glycylglycine) are incubated with the cells in a sodium phosphate buffer for 30 minutes at 37°C. The released product is p-nitroaniline (PNA). The absorbance at 405 nm is measured and compared against a standard curve of PNA. Protein is quantified using a modified Bradford method.

Product Specification Sheets
Complementary Products
Protocols & Instructions





LL-0025