DermaLife K Keratinocyte Calcium-Free Medium Kit
$165.90
Product Description
DermaLife K Calcium Free Medium Complete Kit is a serum-free, calcium-free medium that is made to order. Calcium Chloride has been omitted from the Basal Medium and is supplied as an individual LifeFactor.
DermaLife K has been optimized for the culture of Human Keratinocytes, and supports their growth over at least 15 population doublings. DermaLife Calcium-Free Basal Medium does not include phenol red or antimicrobials.
DermaLife Calcium-Free Basal Medium contains no calcium and will not support cell attachment and growth. Lifeline® calcium chloride supplement gives you the ability to vary the Ca+ concentration to meet your experimental needs.  Recommended range of final calcium concentration is 0.02 mM to 0.15 mM, dependent upon cell type.
Add the LifeFactors to promote guaranteed proliferation and function of cells.
Kit format for formulation flexibility: Offered in a kit format composed of calcium-free basal medium and associated supplements and growth factors called "LifeFactors." This kit allows you to prepare fresh medium in your laboratory, extending shelf life and enhancing performance.
Protective packaging:  DermaLife Calcium-Free Basal Medium is provided in a light-protected 500 mL bottle.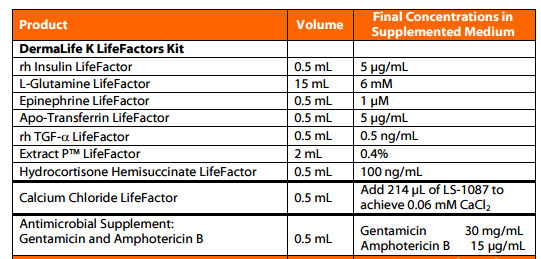 DermaLife K culture medium is quality tested for:
Sterility: Negative for bacteria and fungal growth
pH: 7.5 +/- 0.2
Cell Performance: Rate of proliferation and morphology
Osmolality:  315 +/- 10 mOsm
Endotoxin: < 0.5 EU/mL
This product is manufactured when your order is placed.
Product Specification Sheets
Keratinocyte Systems

Lung Cell Systems
Complementary Products