ProstaLife ™ LifeFactors Kit
$93.16
Product Description
For use with human reproductive epithelial cells, including Prostate Epithelial Cells and Seminal Vesicle Epithelial Cells, and ProstaLife™ Basal Medium.  This kit includes the associated supplements and growth factors called LifeFactors. This kit allows you to prepare fresh medium in your laboratory, extending shelf life and enhancing performance.
LifeFactors include: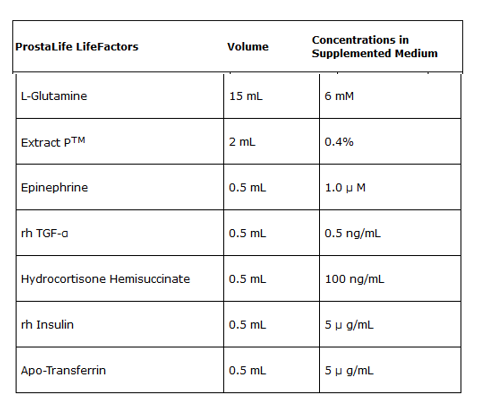 and Antimicrobial Supplement Gentamicin and Amphotericin B (0.5 mL).
Product Specification Sheets
Complementary Products
SDS and "Safety Data Sheets"
(MSDS or Material Safety Data Sheets)
Protocols & Instructions





LS-1072