FibroLife® S2 Fibroblast LifeFactors® Kit
$85.27
Product Description
Associated supplements and growth factors for use with FibroLife® Basal Medium for low-serum (2%) culture of Human Fibroblasts and Mesenchymal Stem Cells-Pre-Adipocytes.
Use FibroLife® Basal Medium and FibroLife® S2 LifeFactors Kit to prepare fresh medium in your laboratory, extending shelf life and enhancing performance.
LifeFactors® are packaged in a convenient gas-impermeable pouch for easy storage.
FibroLife® S2 LifeFactors® include: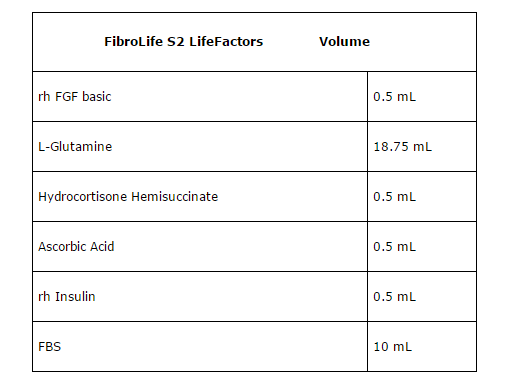 and Antimicrobial Supplement Gentamicin and Amphotericin B (0.5mL).
Product Specification Sheets
Complementary Products
SDS and "Safety Data Sheets"
(MSDS or Material Safety Data Sheets)
LS-1038