VascuLife® VEGF Endothelial Medium Complete Kit
$145.20
Product Description
VascuLife® VEGF (containing Vascular Endothelial Growth Factor) is a low serum medium optimized for the rapid proliferation of Human Endothelial Cells, including:
Human Umbilical Vein Endothelial Cells (HUVEC)
Aortic Endothelial Cells
Other human large-vessel endothelial cells
VascuLife® culture medium supports the growth of these cells in a low serum environment.
VascuLife® Basal Medium contains no antimicrobials and no phenol red.
VascuLife® VEGF Medium contains rh VEGF, which may affect stimulation assays. Lifeline® recommends using VascuLife® EnGS for these types of studies.
Kit Format:  VascuLife® culture medium is offered in a kit format composed of basal medium and associated supplements and growth factors called " LifeFactors ." This kit allows you to prepare fresh medium in your laboratory, extending shelf life and enhancing performance.
Protective Packaging:  VascuLife® Basal Medium is provided in a light-protected 500 mL bottle.
LifeFactors include: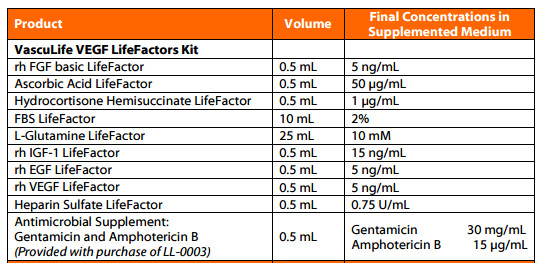 ISO-Style Quality Testing for Guaranteed Consistency and Reproducible Results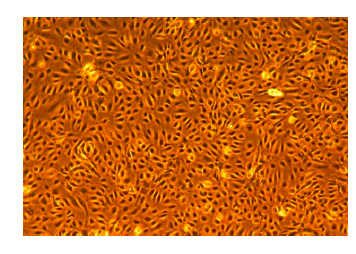 VascuLife® VEGF medium grows HUVEC and other human large-vessel endothelial cells at rates that meet or exceed other commercially available serum-containing media while maintaining excellent cell morphology. In comparisons with other commercially-available media, Vasculife® VEGF shows superior proliferation at different seeding densities.
Shown at left: HUVEC, passage 2, 4 days after inoculation with 2,000 cells/cm2 (100X).
Shown below: HUVEC inoculated at low seeding density in 24-well plates. Higher fluorescence represents a greater number of cells per well and therefore better proliferation.

Every production lot of VascuLife® VEGF Endothelial Cell Culture Medium is extensively tested using Endothelial Cells.
Sterility Testing:  Negative for bacteria and fungal growth
pH:  7.8 +/- 0.3
Cell Testing:  Rate of proliferation and morphology
Osmolality:  270 +/- 10 mOsm
Endotoxin:  < 0.5 EU/mL
Product Specification Sheets
Complementary Products
Protocols & Instructions





LL-0003